Bonjour!
Awww what a lovely post today maybe?
Okay so here's me.
Not. Of course. ;p
Here it is.
On me; Black umbrella-cut abaya and matching shayla, Chanel-esqued clutch from ALDO.
*of course my hands are not black that were gloves i was wearing fyi ;p*
Close-up. Bambam ;p
Me with Yana. While waiting for our cabs.
So last week, 28th November 2012, I was invited to attend an Egyptian wedding. Well to conclude, it is, quite different from the usual Malay weddings I used to attend. Them Egyptians don't really eat during the wedding receptions. At most, they'll have confectioneries or halawiyat we call it here, and soft drinks.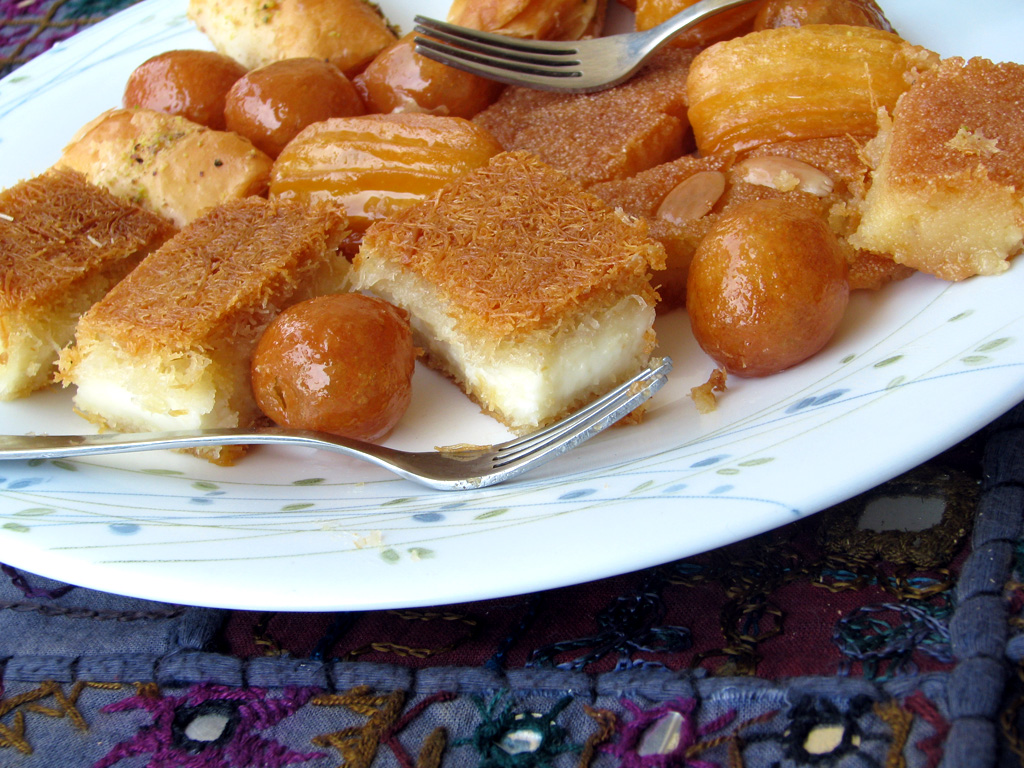 These are some of the halawiyat here; Basbousa, Kunafa, Zalabyah, Balah El-Shaam, Sweet Gullash
You won't believe me but yes, all they do is just dancing, dancing, and dancing all night long. Ooohhh of course you can tell, me loving it so much yaww! And yes, I did dance the whole night that night and I had fun! Really! Please do invite me again some other times hewhewhew. Btw, here are some photos. But since I was dancing throughout the whole night, so there's not much photos that I was able to capture ;3
Me with Nuha (the girl in pink) and 2 other girls
I danced with Nuha that whole night. On the stage, yes. Haha. Btw can you guess how old is Nuha? Okay at first I thought she's like maybe 16 or 17 years old. But then she told us that she's 13! Okay that's quite a surprise already. Then, later that night, when her brother Mahmoud, who invited us in the first place, brought us for a very late dinner at CFC, firstly he said to me that Nuha like me very much. Well I think probably because I can converse in Arabic a bit so she felt comfortable to chat with me. Then when I asked him again, how old is she, he told us that she's 10 actually. We was like, what?! TEN years old and she's the same size as me already?! Whoaa. And our friend, Izzat, who's like having a crush on her, well she had a crush on Izzat too, and I was sort of being their translator that night. LOL Izzat and Nuha -.-' Btw Izzat please don't get dissappointed just because she's too young hahaha.
This is Izzat. Muka penat kot time ni dah midnight rasanya masing2 melangut je tunggu tremco.
Btw, here's throughout the wedding. Well not really. Before I went onstage to dance that is. ;p
Me with Keel.
Me With Sarah.
From Left ; Balqis, Sarah, Hanis, Keel, Shafinaz.
The performer. Cannot capture it nicely lah he was spinning too fast for too long and I only have my phone camera at that time so here's the best I could get.
Those were the bride and groom. The ones in the suit and the white dress.
*This lil boy; like a boss sitting front there on the stage -.-'
So that's all lah the pictures that I have. Because afterwards I was dancing hewhewhew. The wedding ended at about nearly 12am. So it's not easy to get a cab you know. What more 5 cabs. So in the end, Mahmoud kinda rented a tremco for us. *Tremco is a van, which is one of the main public transport used by civilians here, in Egypt, where you can fit it as many people as you like and the ride really feels like you're actually on one of the roller coasters in USS -.-* And so this was what happened.
You do the caption for me. More or less 24 of us in one tremco which usually fits for 10 to 12 people at one time. -.-'
Since there's no heavy meal at all throughout the night, I think Mahmoud really understand that we might be starving. So he treated us with CFC after the reception. Midnight that was. How nice of him!
Us! *famished*
Btw did I mention that it's winter here? And it's nearly 1am some more? Freezing. Eyebags. Worn-out. Starving. LututLonggarMenariBanyakSangat. *nuffsaid*
And so I think that's the end of that night. We had fun. Really. Well at least I did. Nice meeting you Mahmoud and not to forget Nuha, and of course the bride, Mahmoud's sister *whom I forgot the name. Asif giddan! T_T
Ehhhhh? The brat named Melati that is. Hahaha. I wore this to class last Monday. Because jubah, skinny jeans, and sneakers being worn together is cool liddat ;p
So till then, adios! :D